Spoiler Alert!

V

• T • E
Areas of this article contain spoilers about Uttakatta. Please proceed with caution.

Some sections of this article may be under construction at the moment.
---
Uttakatta
Japanese Name
ウッタカッタ
Romanized Name
Uattakatta
Nickname(s)
N/A

Personal Information

Debut Age and Occupation

---

Gender
Female
Classification
Magical Girl/Human
Status
Deceased
Affiliation
Freelancers
Magical Kingdom
Partner(s)
Filru
Kafuria
Mentor(s)
Unknown
Student(s)
None
Known Relative(s)
Unknown
Kills
None
Killed By
Shufflin
Likes
Flattering great people
Overalls
Hates
Not getting paid
Uprightness
"
With this sort of thing, it'd about the flow. Going with the flow.
"
 

— Uttakatta to Filru
Uttakatta (ウッタカッタ) is one of the main protagonists of Magical Girl Raising Project: JOKERS.
She is a Freelancer who has a feigned tone of politeness.
She once participated in 36th Hell Survival Games.
Appearance
Human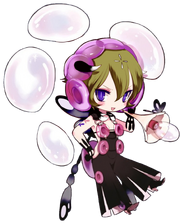 As a Magical Girl, Uttakatta has short green hair with a burst shape on her bangs and purple eyes. On her head, she wears a large purple bubble headband with white-tipped black horns growing out from them. 
On top of her dress are similar horns, and her costume is made up of smaller purple bubbles. The base of her outfit is black and has a slit that exposes her back, and she wears pants. She wears black gloves and black heels that have purple bubbles on the back of them. Behind her dress, there is another larger bubble.
She has butterfly wings and butterfly tattoos on her left arm. On her bubble blower, there is also another butterfly. 
Personality
Uttakatta is a polite individual who speaks sensibly and is level-headed at all times. She seems to be unperturbed in times of distress and is more or less always seen with a smile on her face, even when it may be inappropriate. She is good at co-operating and speaking with others.
Can make mysterious bubbles.
She can create mysterious bubbles by blowing into her unique straw. The size and strength of the bubbles can be adjusted freely. If the strength is at its strongest, it won't break easily even if a Magical Girl strikes it.
The bubbles will also have a fixed amount of floating power that will allow them to float even with a human inside as long as the bubble is made big enough. The bubbles can be freely moved around and destroyed by Uttakatta.
Magical Straw: A Magical Straw that looks like either a megaphone or trumpet. When blown, bubbles will come out of it.
Magical Digestive Aids (Former): An item found in all the medical camps during 36th Hell Survival Games. It can help to extinguish a large fire. Uttakatta took it with her to win against Flame Flamey.
Relationships
During the events of JOKERS, Filru and Uttakatta teamed up.
Kafuria and Uttakatta were partners before the events of JOKERS.
She and Flamey fought in 36th Hell Survival Games. Ultimately, Uttakatta defeated her by filling her bubbles with fire extinguisher foam (which she had taken from a medical tent), wounding Flamey majorly. As a result of her victory, Uttakatta took Flamey's flags.
Trivia
In Fanbook 1, Uttakatta has the following stat:
Physical Ability: 4/5
Communication Skill: 4/5
Magic Rarity: 2/5
Magic Experience: 4/5
Mental Strength: 4/5
Vital Capacity: 5/5
Uttakatta's name, ウッタカッタ, sounds similar to Japanese word 泡沫 (Utakata), which literally means "bubble".
The author originally wanted to name her ぷくぷくかるーたん (Buku-Buku Tan/Blowy Blowy), but it got rejected.
V

• T • E Magical Kingdom
Community content is available under
CC-BY-SA
unless otherwise noted.