Spoiler Alert!

V

• T • E
Areas of this article contain spoilers about Umbrain. Please proceed with caution.

Some sections of this article may be under construction at the moment.
---
Umbrain (アンブレン), also known by her real name Mitsu Kasayama (嵩山美津), is one of the main protagonists of Magical Girl Raising Project: JOKERS.
Umbrain is a member of the Department of Diplomacy in the Magical Kingdom. She is Lady Proud's second in command and most trusted personnel.



Spoiler(s) Below!
In JOKERS, she follows Lady Proud to S-City after the latter receives a mysterious text. She eventually goes missing and is revealed to have been abducted by Grim Heart, and later beheaded by Joker Shufflin.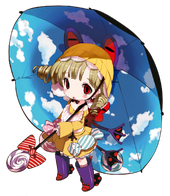 As a Magical Gir, Umbrain has curly, dirty blonde hair, and red eyes. She has a yellow sort of rain hat with white lace lining the inside and a black strap holding it on her head. She has a yellow raincoat with the part nearest her neck white with a small black bowtie and the inside of the coat is lined with lace. She also has red frog earrings, a lacey, sort of loose bib-like thing around her neck, and a bunch of candy like items on her raincoat. She has a red frog backpack, and purple and red rainboots with black bows on the back with red polka dots. She is holding an umbrella with a candy on the bottom of the pole, which is black. The inside of her umbrella looks like a sky.
Umbrain is quite childish, complaining of boring work and always wanting to play. She would, however, do whatever Lady Proud asked.
Uses a magic umbrella that can block anything.
She possesses a unique umbrella that can completely ignore the speed and the weight of anything that comes flying in by stopping it softly. Therefore, she can block any attack since she can catch the attack softly.
This magic can be used even when the umbrella is closed, as well as with the inside of the umbrella. It can also be used as a parachute or glider.
Magical Umbrella: Umbrain's magical umbrella that can catch and deflect anything.
Frog Backpack: A backpack that Umbrain carries.
Umbrain and Lady Proud are partners and are quite close.
In Fanbook 1, Umbrain has the following stat:
Physical Ability: 4/5
Communication Skill: 2/5
Magic Rarity: 1/5
Magic Experience: 3/5
Mental Strength: 3/5
Focus: 2/5
V

• T • E Magical Kingdom
Community content is available under
CC-BY-SA
unless otherwise noted.