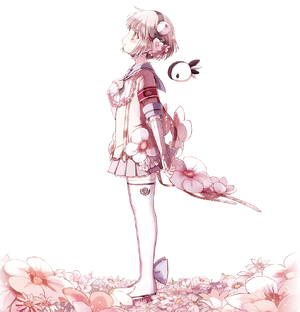 An anime television series adaptation by Lerche began airing in Japan from October 1, 2016 and is being simulcast by Crunchyroll. The anime will be released across four Blu-ray & DVD volumes containing three episodes each.
The opening theme is "Sakebe" (叫べ Shout) by Manami Numakura, while the ending theme is "Dreamcatcher" by Nano. The anime will be released across four 3 episode Blu-ray & DVD volumes.
Staff
Original Story: Asari Endo
Production:
Studio: Lerche
Director: Hiroyuki Hashimoto
Sound Director: Satoki Iida
Script: Takao Yoshioka
Character Design: Yukiko Aikyou
Original Character Design: Maruino
Music: Takurou Iga
Label: Victor Entertainment
Opening Theme Perfomance and Lyrics: Manami Numakura
Ending Theme: Nano
Cast
Seiyuu (Voice Actors)
Snow White
Ripple
La Pucelle
Japanese
Japanese
Japanese
Nao Touyama
Manami Numakura
Ayane Sakura
English
English
English
Megan Shipman
Sarah Wiedenheft
Katelyn Barr
Top Speed
Ruler
Swim Swim
Japanese
Japanese
Japanese
Yumi Uchiyama
Yōko Hikasa
Inori Minase
English
English
English
Lindsay Seidel
Emily Neves
Bryn Apprill
Minael
Yunael
Tama
Japanese
Japanese
Japanese
Risae Matsuda
Satsumi Matsuda
Asuka Nishi
English
English
English
Alex Moore
Kristin Sutton
Kristen McGuire
Nemurin
Calamity Mary
Magicaloid 44
Japanese
Japanese
Japanese
Yumiri Hanamori
Kikuko Inoue
Satomi Arai
English
English
English
Amanda Lee
Mikaela Krantz
Stephanie Garrett
Sister Nana
Weiss Winterprison
Cranberry
Japanese
Japanese
Japanese
Saori Hayami
Yū Kobayashi
Megumi Ogata
English
English
English
Tia Ballard
Morgan Berry
Anastasia Muñoz
Hardgore Alice
Fav
Japanese
Japanese
Rina Hidaka
Kurumi Mamiya
English
English
Macy Johnson
Madeleine Morris
Songs
List of Episodes
Main article: Magical Girl Raising Project/Episode List
Media
Gallery
Videos
Community content is available under
CC-BY-SA
unless otherwise noted.