Spoiler Alert!

V

• T • E
Areas of this article contain spoilers about Keek. Please proceed with caution.

Some sections of this article may be under construction at the moment.
---
"
Magical girls are chosen by the gods.
We can't have even a smidgen of impurity among us.
"
 

— Keek to Snow White
Keek (キーク) is one of the main antagonists in Magical Girl Raising Project: Restart.
From the Magical Kingdom, Keek is a member of the Information Technology Department. She tends to be emotional.



Spoiler(s) Below!
In Restart, she's the primary antagonist and the game master who pulled all the other Magical Girls into her game.
The Magical Girls she abducted were specific in that they were all survivals of Cranberry's selection test, also known as "Children of Cranberry" with the exception of Lapis Lazuline as Keek had mistaken her for her mentor who was an actual survivor. Her motivation behind the game was to find the Ideal Magical Girl who could reform the Magical Kingdom.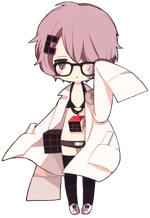 As a Magical Girl, Keek has short, dark pinkish- mauve hair that covers her left eye. She wears a cubed black barrette in the shape of the letter "C" pinned. She has slanted, dark purple eyes and black-rimmed glasses.
She wears a black swimsuit-esque outfit underneath a long white lab coat that holds two white rulers in the pockets. At the left, a disc protrudes. She also has a rubix-cube charm hanging from her neck. The front of the rubix-cube charm has the colors black, white and reddish pink at the top. At the bottom right, a big black rubix-cube is also shown.
Her pants have a silver rectangular layer on it.
She wears long black socks and white sneakers with black layers. Keek is paler than other Magical Girls.
Keek is a very intellectual and level headed individual who calmly oversees the events of Restart. She is also shown to admire heroes and pure Magical Girls like Snow White with ideas and plans to make more Magical Girls just like her.
Despite her demeanor, it has been shown that when backed against a wall, she will break down into what can only be described as a child having a temper tantrum upon the realization that she is just like the villains she despises so much.
Can do whatever she wants within her personal cyberspace.
She can create a Cyber World, all of which are made upon her thought. She can also change the world or destroy it based on her will. Using her magic, she is also able to obtain electronic data freely.
She is invincible and can do anything inside the cyber world. She can even reproduce a person if enough data and information are given.
She can forcibly pull other people into her cyber world, and whatever happens to a person in a cyber world can affect the real world as well. Through a network, she can do things such as controlling others Magical Phone or setting up a magical trap.
However, the cyber world is not invincible and it can be interfered with by the outside world.
Rubik's Cube: A cube that she wore on her neck, around her waist, and as a hair clip. Keek regularly plays with her rubik's cube while waiting for the Magical Girls in her cyber world to do something big.
Keek greatly admires Snow White and wishes to be friends with her. However, Snow White rejects her offer. Keek tries to trick Snow White by telling her she could revive her friends from her previous selection test, Snow White manages to realize Keek is lying and refuses to join Keek.
Pythie Frederica is Keek's mentor. However, she has had her memory of Pythie erased.
Fal is Keek's mascot. They do not see eye to eye because Fal believes that Keek is responsible for the deaths of all the magical girls that have died in the game. However, Keek says that it isn't her fault, claiming that the deaths were either an accident or caused by another Magical Girl.
Tot Pop likes to bug Keek, much to her annoyance. Tot Pop calls her Keeky.
Keek contacts Puk's Faction with assistance for her version of Magical Girl Raising Project during Three Sisters Raising Project: Restart. Her beta version would be tested by Puk Puck's daughters with Uluru giving her suggestion upon completing the game.
In Fanbook 1, Keek has the following stat:
Physical Ability: 1/5
Communication Skill: 1/5
Magic Rarity: 5/5
Magic Experience: 5/5
Mental Strength: 2/5
Vision: 1/5
Keek is the only antagonist where the main cast of Restart never met her in person nor knew her name.

Her name was only revealed to the survivors after the events of Restart.

Her name is a play on the word "geek".
She is Pythie Frederica's student, but her memory of her was erased. This ultimately leads to her mental breakdown and her downfall, as she realized she is trained from the very "corrupt Magical Girls" she hoped to destroy.
Keek and Glassianne are the only two Magical Girls who wear glasses.

While Glassianne needs her glasses to activate her magic, Keek's glasses, on the other hand, are just part of her Magical Girl outfit.

Keek makes a cameo in Black as an Image on Pythie Frederica's chandelier.
V

• T • E Magical Kingdom
Community content is available under
CC-BY-SA
unless otherwise noted.