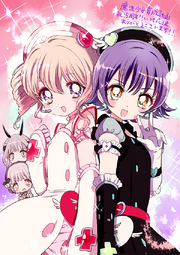 Cutie Healer Series (キューティーヒーラースシリーズ) is a popular anime series that exists in Magical Girl Raising Project universe.
Cutie Healer is anime revolving around Magical Girls with "Cutie" in their name such as Cutie Healer, Cutie Blade, or Dark Cutie. There are many different seasons of this anime.
Cutie Vega - The main character and partner of Twin Stars Cutie Altair
Twin Stars Cutie Altair - The main character and partner of Cutie Vega
Cutie Healer - The main character
Cutie Blade - The main character
Dark Cutie - The main character and villain of the show
Cutie Arrow
Cutie Spear Charge
Cutie Pearl
Cutie Onyx
Cutie Zebra
Cutie Panda
Cutie Orca
Cutie Penguin
Snow White, La Pucelle, Princess Tempest and Sally Raven are huge fans of the show.
In the anime, the two main heroines wore black and white outfits which is probably a reference to another Magical Girl anime Futari wa Pretty Cure.
According to Sally Raven, the Cutie Healer Series is around 20 years old or more as they had celebrated their 20th anniversary.[1]
.
Community content is available under
CC-BY-SA
unless otherwise noted.